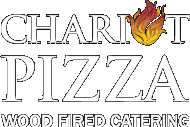 Igniting a Passion for Flavor
508.274.8153

contact@cateringoncapecod.com
What's Included in the Price
Chariot Pizza Cape Cod Catering
offers a complete meal consisting of:
Pizza: Unlimited Wood Fired thin crust pizza with up to six topping combinations
Salad: Choose two from six delicious options all designed to satisfy anyone's taste.
Dessert: Select from fresh fruit salad skewers, S'mores or mini cannolies
Party Supplies: We provide white paper plates, white plastic forks, knives and spoons, dinner size white napkins and dessert plates. We even remove all trash accumulated during serving time.
Time: 4 hours - 2 hours for set up and firing of oven, 2 hours of service and clean up
Please see our pizza menu for some of our best selling pizzas. We also have the usual suspects as well...
Please Plan Ahead
When booking we recommend you reserve your date with as much time as possible, especially if you are hosting a large event. We look forward to hearing from you!
Additional Info

© 2023 Chariot Pizza Wood Fired Catering
Hosting • Design • Development: Community Internet Cape Cod Web Design