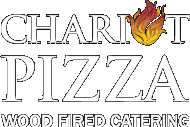 Igniting a Passion for Flavor
508.274.8153

contact@cateringoncapecod.com
Wood Fired Pizza Menu
Choose from our favorite combinations or create your own!
Plain
Pepperoni
Sopressata
Meatball
Sausage
Mushroom
Roasted Veggies
Bacon & Onion
Chicken & Broccoli
Shrimp and Spinach
Shrimp & Hot Pepper

Traditional White Clam
Broccoli & Garlic
Artichoke, Fresh Mozzarella & Caramelized Onion
Barbecue Chicken
Buffalo Chicken
Chicken & Sundried Tomatoes
Potato, Bacon and Caramelized Onions
Tomato, Basil, and Fresh Mozzarella
Bacon, Lettuce & Tomato
Mozzarella, Garlic and Olive Oil
Meat Lovers Special (Bacon, Sausage, Pepperoni)
Chef's Suggested Creations (pizza photos coming soon!)
Margherita-
fresh mozzarella, san marzano tomatoes and fresh basil
Hawaiian-
Sliced prosciutto over fresh pineapple wheels and fire roasted jalapeno
Italian Eggplant Parm-
Parmesan crusted eggplant, plum tomatoes, ricotta cheese, fire roasted red peppers and fresh basil
Brie and Port Figs-
Creamy brie cheese over port wine fig puree, caramelized onions and sugar glazed sweet apples
Greek-
Crumbled feta cheese, kalamata olives, fire roasted garlic, red onions and spinach
Meatball-
Handmade meatballs, caramelized onions over red sauce and extra cheese
White Mushroom & Gorgonzola-
Sliced cremini with blue cheese, radicchio wedges, fresh thyme and bechamel
Sweet Potato Bacon-
Applewood smoked bacon and finger crushed sweet potatoes and fresh scallions
Summer Squash and Zucchini-
Seasonal flavors with fresh mozzarella, cherry tomatoes and fresh basil
S'mores Pie-
Vanilla bean sugar with dark chocolate chips, gram cracker covered smoked marshmallow puffs and heath bar crumbs
Lobster Bake-
Corn off the cob, baby red potatoes, white butter clam sauce (seasonal rates may apply)
Spicey Shrimp Diablo-
Fire roasted cherry tomatoes, fresh mozzarella cheese dusted in red pepper flakes (seasonal rates may apply)
Scallop BLT-
Plum tomatoes, applewood smoked bacon topped with baby arugula and aioli drizzle (seasonal rates may apply)
More being added all the time!
Are we missing your favorite topping? Just ask us!
Back to our Pizza Catering Rates
Additional Info

© 2023 Chariot Pizza Wood Fired Catering
Hosting • Design • Development: Community Internet Cape Cod Web Design